Views – Downtime - Dreamtime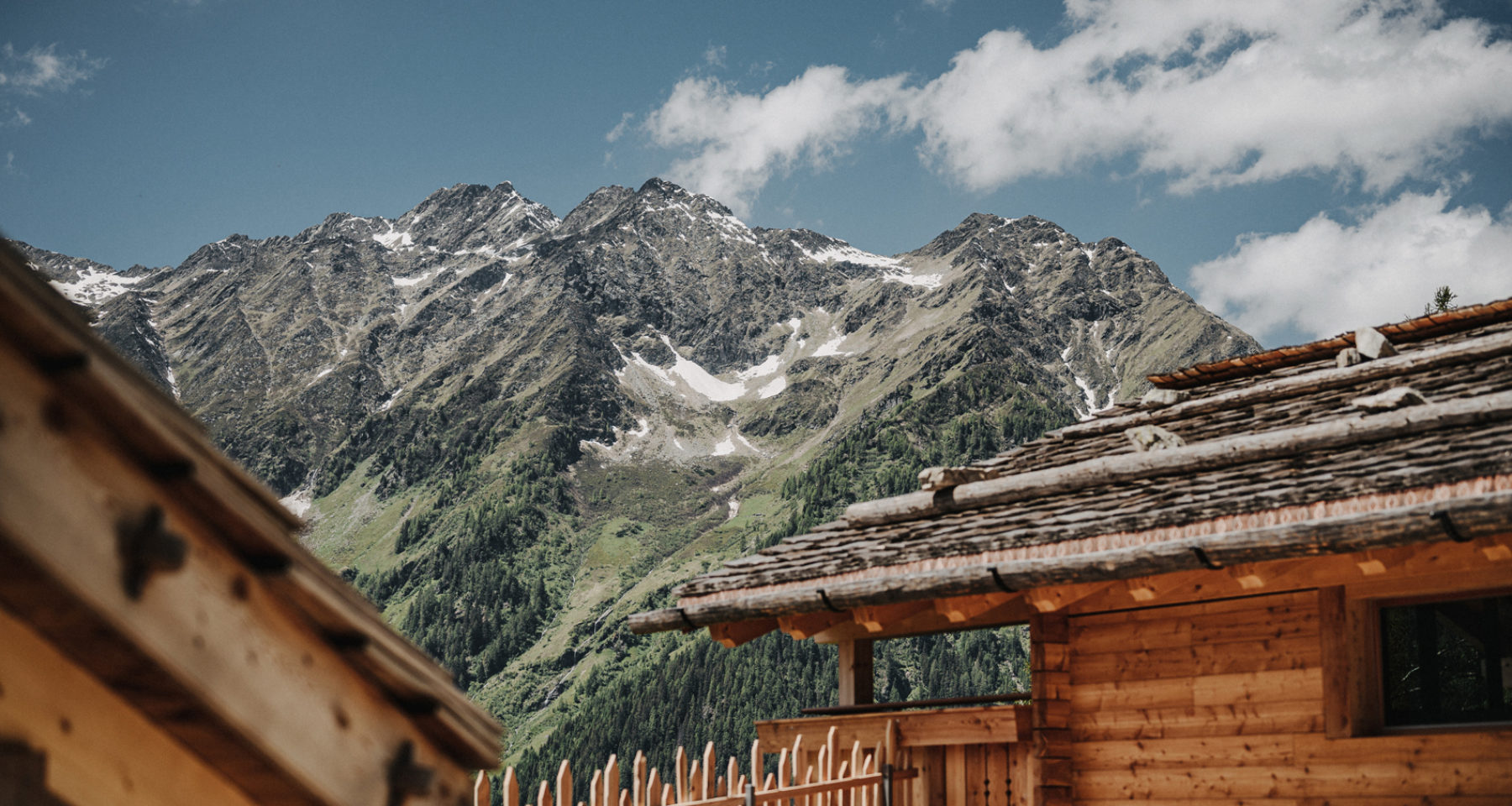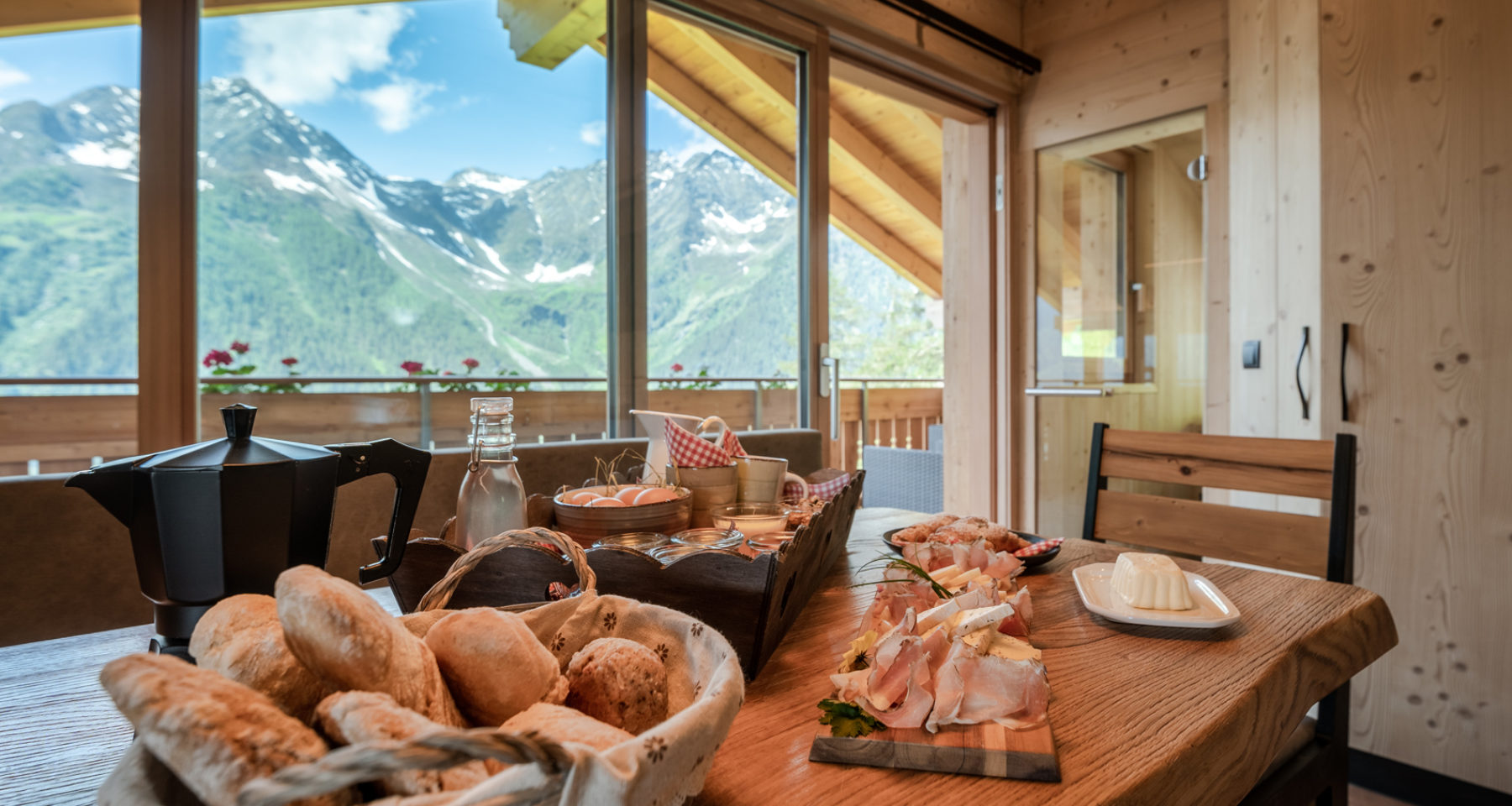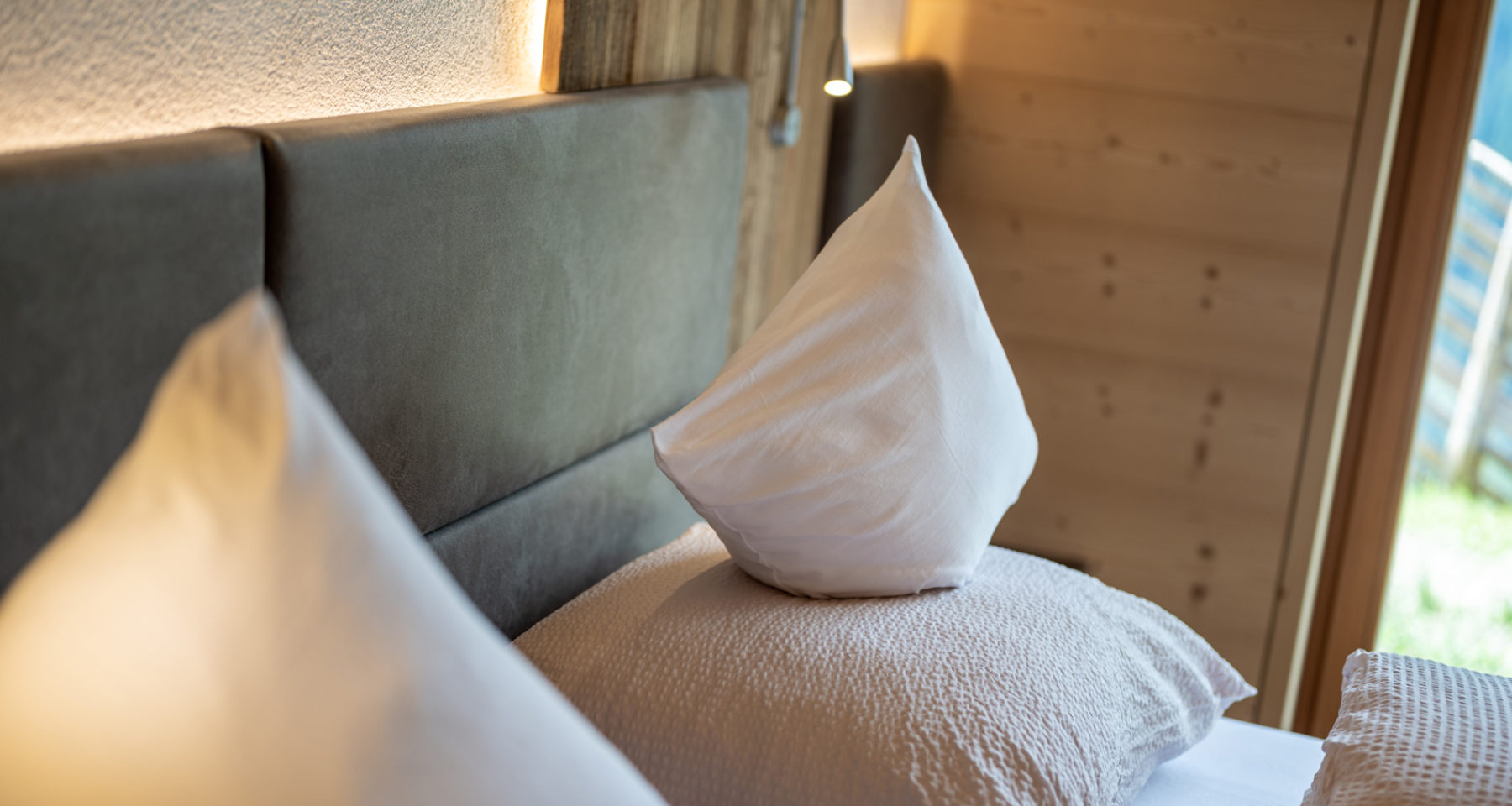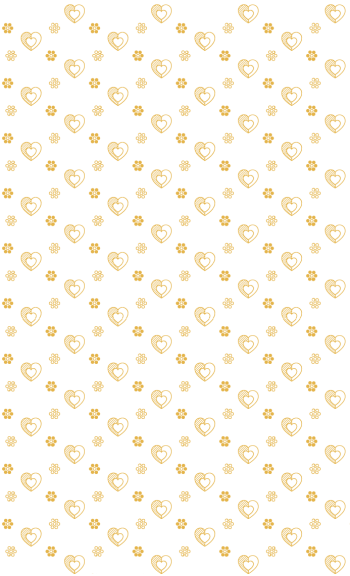 Holidays in the mountains. See, smell, sense and taste nature. Feel free and experience a dream holiday with all of your senses. Feel at home.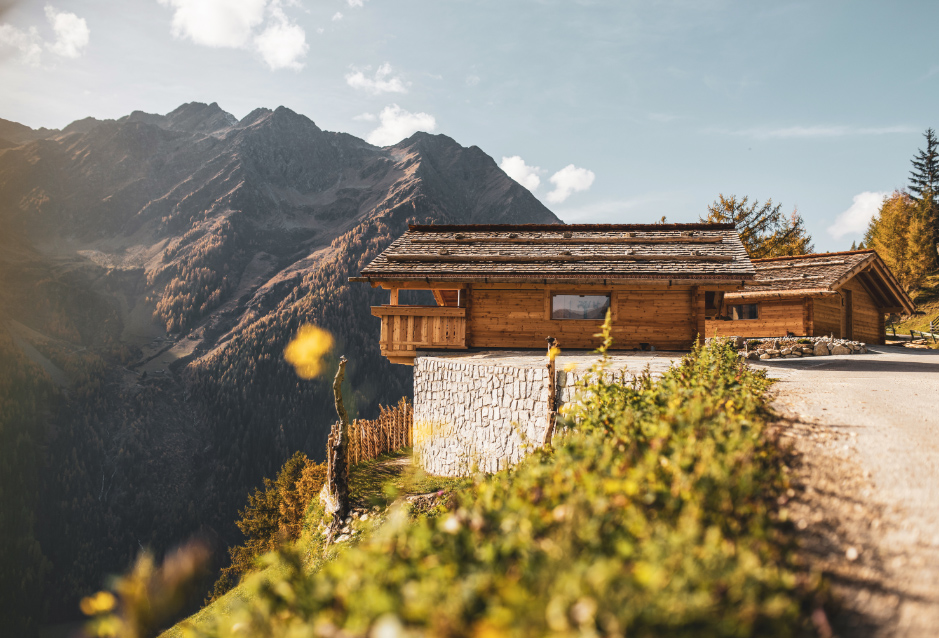 Our enchanting chalets are made with natural materials and offer breathtaking views, comfort and freedom. Freedom to relax all by yourself, to lose yourself in the starry sky from the outdoor jacuzzi, to unwind in the sauna and to find inner peace.
Freedom to experience the uniqueness of the mountains with your loved ones and to really savour quality family time. Freedom to explore a world of tradition with your friends, to take part in the daily life at the Hochgruberhof. Unforgettable and wonderful.
Chalets
Reisnock & Henne
70m² - 2 to 5 people
Two-story chalets with panoramic views. Two bedrooms with double bed | Living room with pull out sofa bed | Kitchenette with ceramic hob, microwave, refrigerator, dishwasher, toaster, kettle, dishes and cookware | Bathroom with shower, toilet, hair dryer, high quality care products  |Sauna with panoramaview | outdoor jacuzzi under the stars | free WIFI | Satellite TV | Safe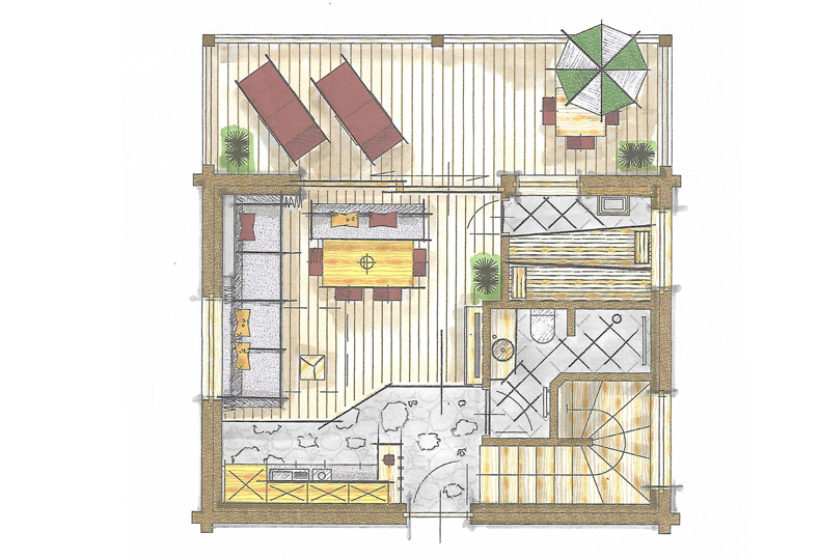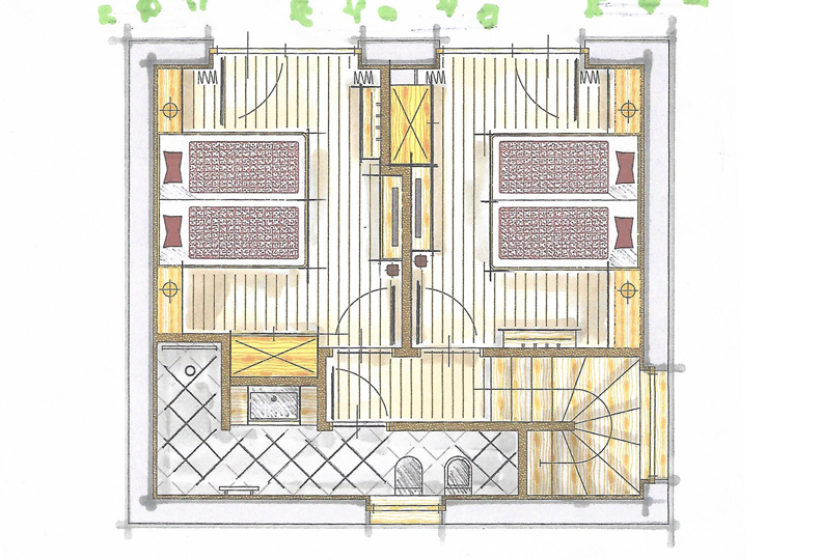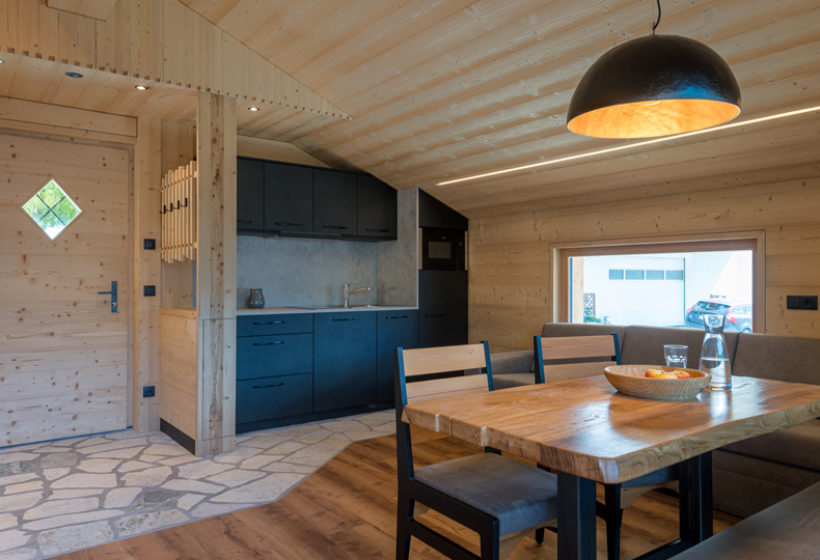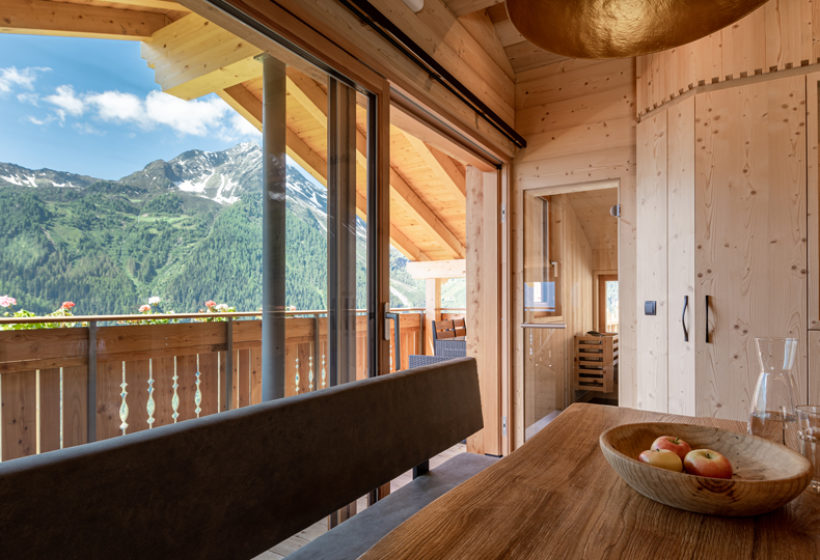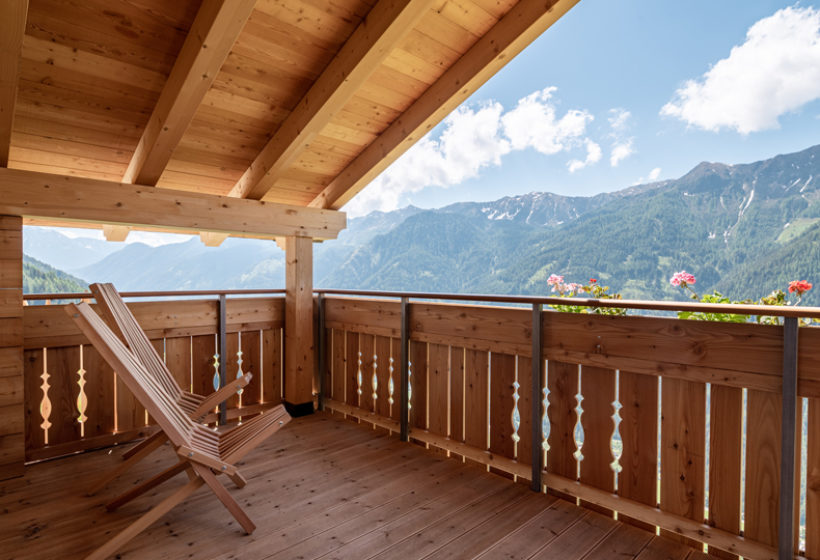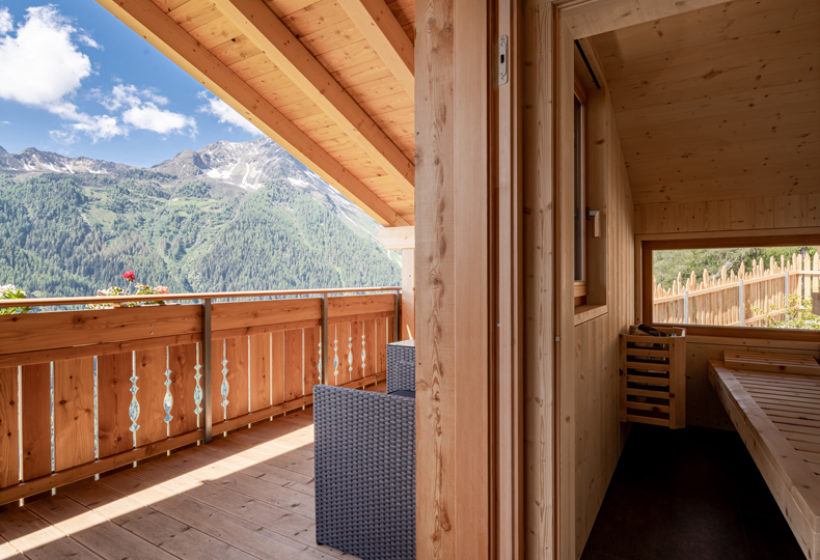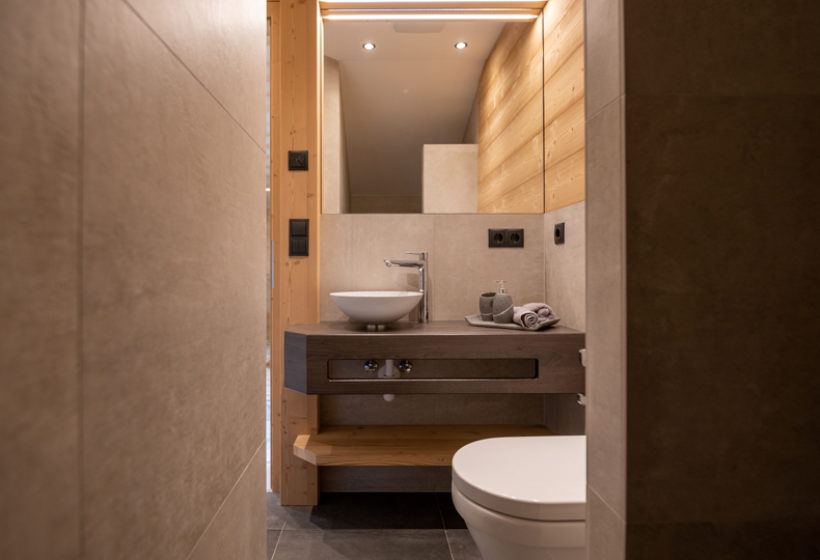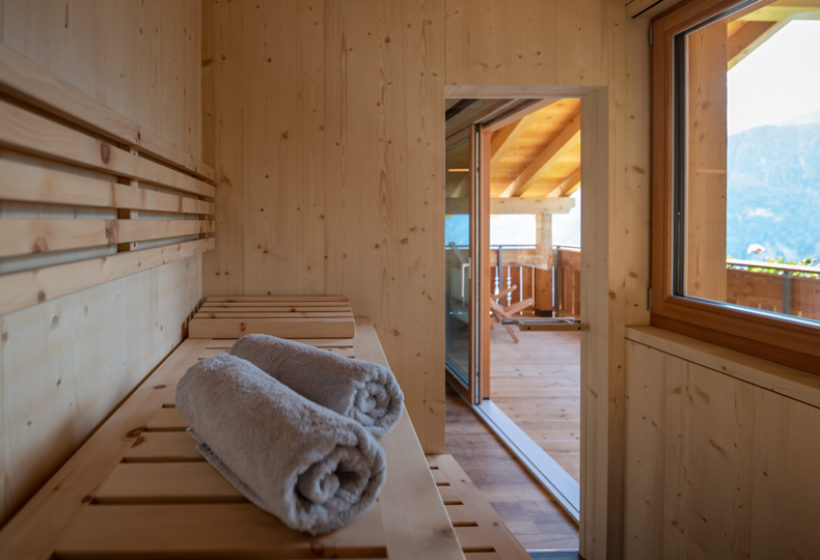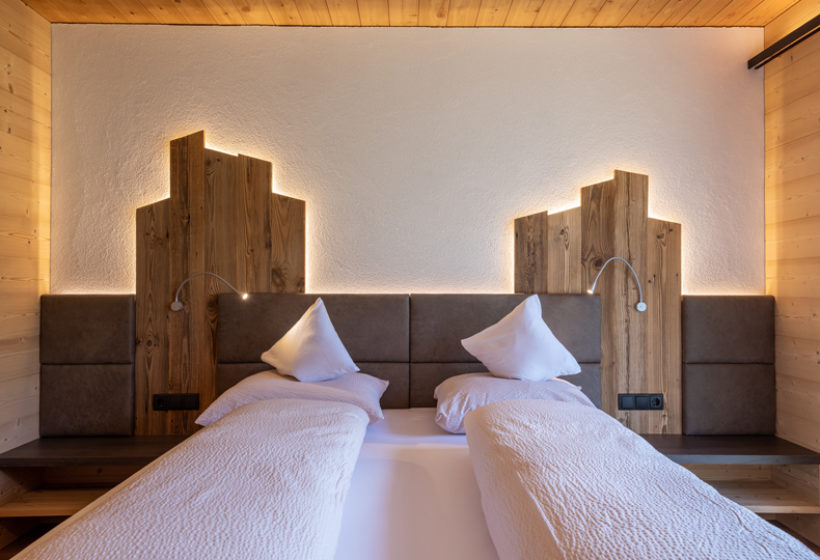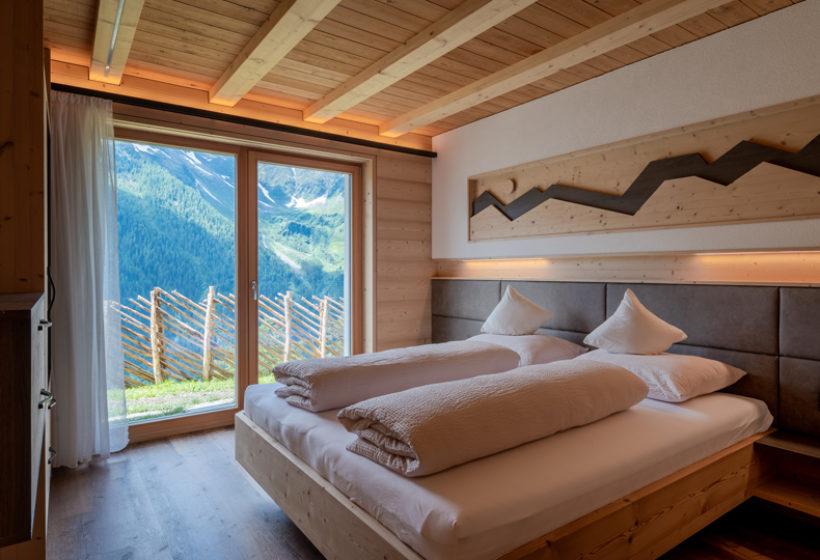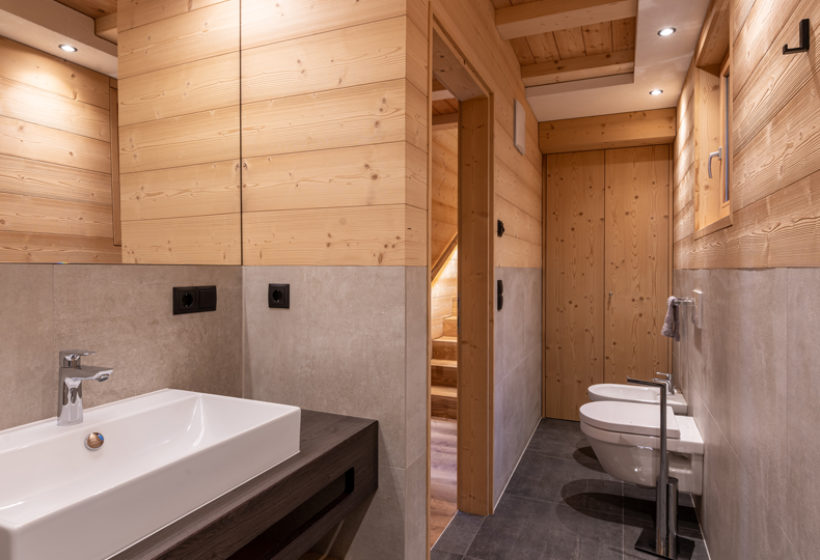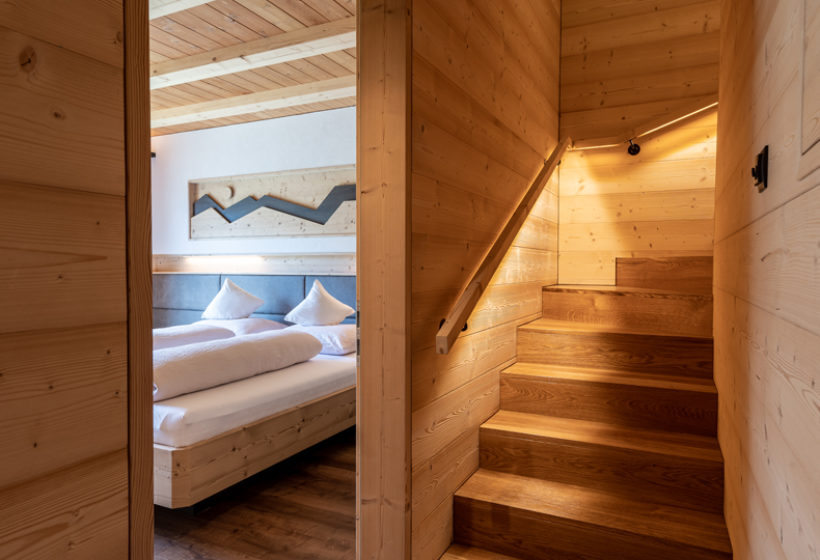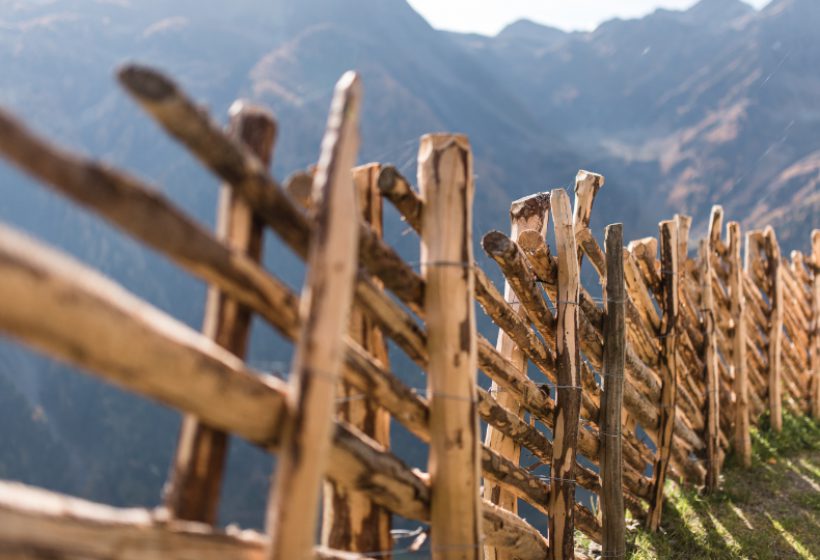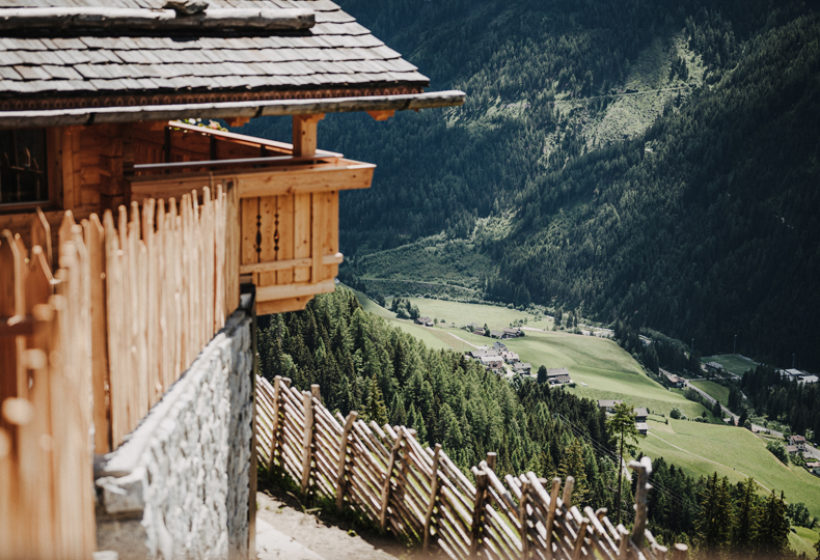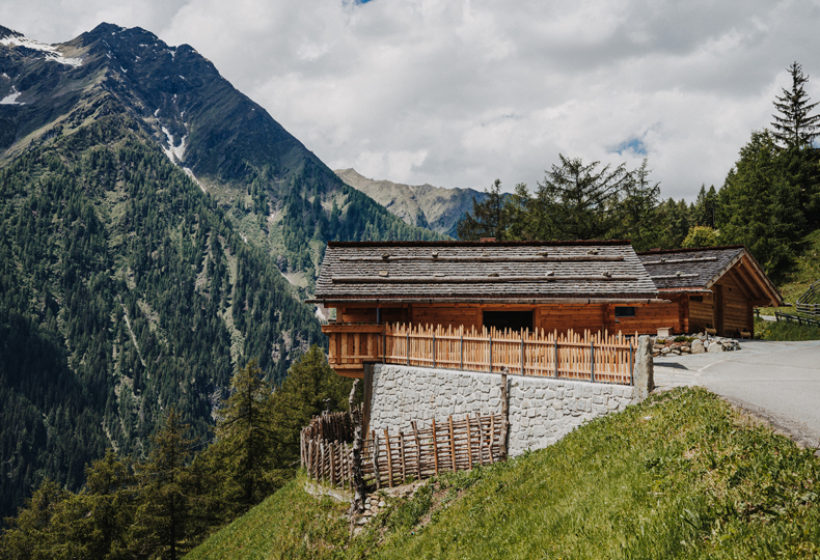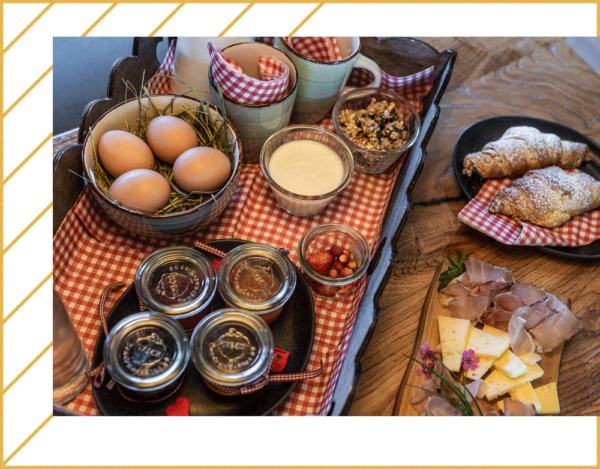 Breakfast basket
A generously filled breakfast basket is packed especially for you using mostly products from the farm. Enjoy it in bed, in the living room, on the terrace or take it out and have a picnic surrounded by nature. Dig in whenever and wherever you want.
Small breakfast
For 2 people
Coffee | tea |milk* | fruit juices* | bread* (different varieties to choose from) | butter* | delicious jams* (strawberry, apricot, blueberry) | honey*

* homemade products

€ 20
Indulgence breakfast
For 2 people
Coffee | tea | milk* | fruit juices *| bread *(different varieties to choose from) | butter* | delicious jams *(strawberry, apricot, blueberry) | honey* | mild natural yogurt* | muesli* | eggs* | cheese* and Speck *
(bacon)

* homemade products


€ 30
Local delicacies
Karl is not only a passionate farmer, but also a trained chef. Upon request, he and Rita will work their magic in the kitchen. They will create genuine South Tyrolean dishes from their own produce for you, made with lots of love. Taste the delicacies of South Tyrol!
Fresh from the garden
When the garden is in full bloom, fresh lettuce leaves sprout out of the ground next to carrots. Bees crawl into zucchini blossoms and ripe fruit shines from shrubs and trees. You know what that means: Our vegetable and fruit shop is open for business. Straight from the garden to your plate. It doesn't get more fresh and local than that.
Our price
A chalet costs 215 € a day (two person occupancy).
We charge 30 € a day for every additional person.
Breakfast
Breakfast is not included in the price for the week. The breakfast baskets can be ordered on site. They are individually packed and can be delivered to your door, just let us know what time you'd like to find them.

Pets
We do not allow pets in our chalets.
Activities at the farm
We keep coming up with new, fun and exciting activities for our guests. Try making yogurt and ricotta with Rita, or enjoy a guided tour of the farm topped off with a cheese degustation with Karl. Click on "NEWS" in the upper right corner and start to "Giluschtn" (lit. 'really feel like making, eating, doing something').
Activities nearby
The Hochgruberhof is the ideal starting point for many an exciting day trip. For example, you could hike up to our own alpine pasture situated a few hundred meters above our farm. There are also plenty of hikes and ski tours in and around the Mühlwald forest, you could even hike to the peak of the 'Henne'. For the duration of your stay you will receive a "holiday pass", which allows you to use all the public transport in South Tyrol for free. Sightseeing made easy! On top of that, you are able to visit the adventure water park CASCADE in Sand in Taufers/Campo Tures for free. We also recommend a trip to the ski and hiking areas Speikboden and Klausberg. We'll gladly give you all our insider knowledge and hiking tips when you're here.
Distances
CASCADE adventure water park: ca. 14 km, ski and hiking area Speikboden: ca. 15 km, village center Mühlwald/Selva dei Molini (stores and church): ca. 6 km , cross-country ski-trail: ca. 4 km, closest public bus station: ca. 4 km;
Pick up service
We will gladly come and pick you up at the bus station by the main road in the direction of Lappach/Lappago (about 4 km from our farm).
Farm store
We have been running a small but nice little store in our farm for a few years now. We offer many delicious products made on site using only the freshest ingredients and milk from our grass fed cows. You are welcome to sample our cheese and dairy specialties. 
(yogurt, butter, cheese, ricotta & fruit syrups )
Arrival and departure
You can move into our chalets from 2 pm onwards on the day of your arrival. You can check out until 10 am on the day of your departure. You are welcome to leave your bags with us outside of these times.
Final cleaning
The final cleaning charge is included in the price. Upon request the chalet can be cleaned for you during your stay for a surcharge of 25€.
Visitor's tax
The visitor's tax for the municipality of Mühlwald/Selva dei Molini costs 1,75€ per person (above the age of 14) per day. This can only be paid on site and is not included in the price.
cancellation conditions
You can cancel free of charge up to 3 months before your set date of arrival. Between 3 months and 4 weeks before your set date of arrival we charge 40% of the value of the booking. Between 1 month and 1 week before set date of arrival the cancellation charge amounts to 70% of the booking price. This amount goes up to 90% if cancellation is made in the week before set date of arrival. We recommend our 'Red Rooster' cancellation protection policy so that you can spare yourself unnecessary costs.